News
« Return to the main News page
Baltimore International Guitar Competition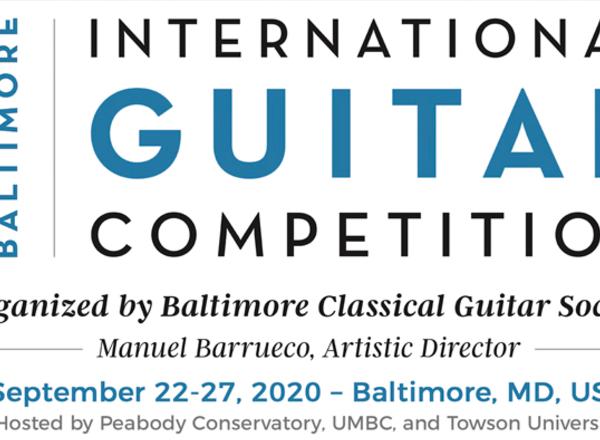 Baltimore Classical Guitar Society, along with its artistic director Manuel Barrueco, announces the first edition of the Baltimore International Guitar Competition which will take place September 22-27, 2020 in Baltimore, Maryland, USA, hosted by the Peabody Conservatory of the Johns Hopkins University, Towson University, and University of Maryland, Baltimore County.
Baltimore International Guitar Competition seeks to foster the development of, and appreciation for, the art of the classical guitar, encourage performances at the highest artistic level, and promote and support the careers of the world's most outstanding young guitarists.
The competition is open to guitarists of all nationalities between the ages of 15 and 32. It consists of three stages: Preliminary Round (video), Semifinal Round, and a 3-Day Final Round which will be open to the public.
Performers will compete for over $60,000 in prizes:
1st prize: $35,000 ($20,000 cash prize, $15,000 Career Award)
All competitors will receive free hotel accommodations.
The $15,000 Career Award will be disbursed on behalf of, and in collaboration with, the winner toward their career development. The winner will receive a 60-minute consultation with Lisa Husseini at iCadenza to help formulate a career plan. First-prize winner will be invited to perform in the Baltimore Classical Guitar Society's 2020-2021 main-stage concert season, along with select additional performances.
The jury will be made up of prominent guitarists and other musicians from around the world. In order to ensure maximum fairness in the adjudicating process, the jury will listen to the competitors blindly. Only on the last day of the 3-day final round will the jury be able to observe the competitors perform. The semifinals and the finals will be open to the public.
For more information, rules, and regulations, please visit BaltimoreGuitarCompetition.org or email Competition@BCGS.org. Application deadline is July 10, 2020.